While Meghan and Harry have dominated the headlines the past couple weeks, Kate and Will are still quietly carrying out their royal duties. Regardless of how much you care or don't care about the British Royal Family, it is kind of difficult to escape the media coverage of them. 
Meghan Markle and Kate Middleton, both beautiful and fashionable, receive the majority of the press coverage relating to the royal family. Part of their job as royals is to stay in the public eye and be all at once
aspirational, mysterious, and relatable. P.S.
The Crown on Netflix is a great primer on why/how
the royal family  positioned themselves as celebrities.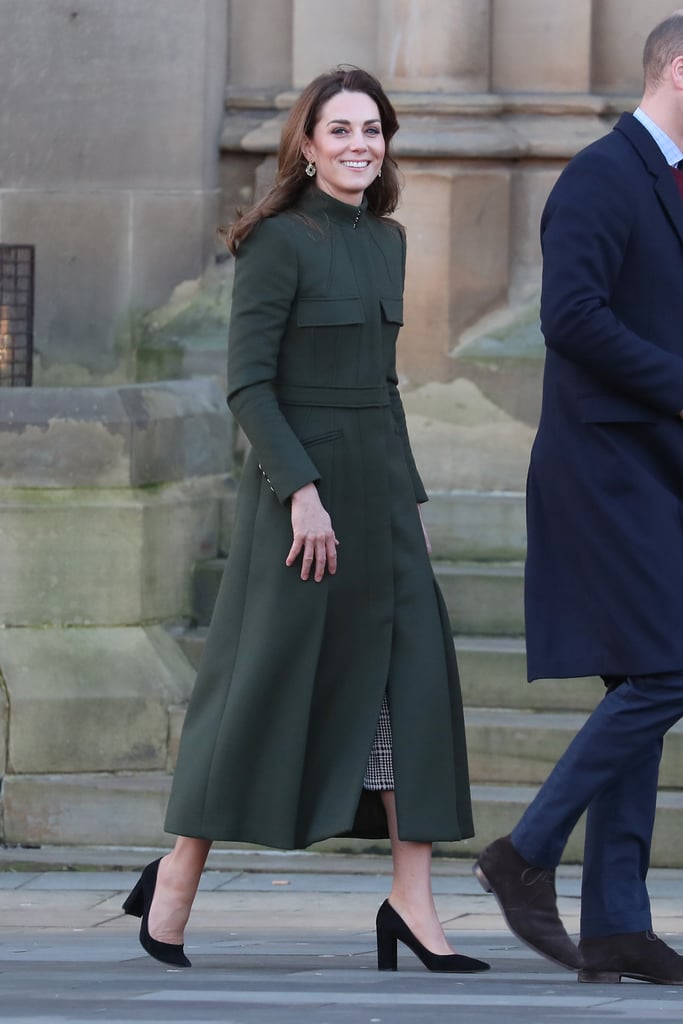 Kate Middleton could teach a master class in embodying these three qualities - aspritional, mysterious, and relatable. She always looks flawless, but also effortless, and leads a life that (at least appears to be) glamorous and exciting. At the same time, she makes people feel special and like she is approachable, and is even spotted occasionally doing very relatable things like grocery shopping.  Despite the constant press coverage and public events, it is rare to actually hear her speak on camera and
the public knows almost nothing about her
private life.
Kate Middleton's wardrobe is one more key aspect in her balancing act between aspiration and relatability. She is often known to pair high end designer pieces with affordable labels like Zara and Mango. 
Kate's recent appearance at 
City Hall in Bradford's Centenary Square was a perfect example of this high-low dressing. She paired a stunning, Alexander McQueen military inspired coat with a houndstooth dress from Zara and affordable diamond shaped statement earrings that she has been spotted in before. 
When I first saw this look of Kate's, I thought Kate Middleton's earrings look very similar to our Diamond Standard Earrings. Keep scrolling to shop other affordable pieces similar to her look.
Shop the Diamond Standard Earrings
Get the Look: